Puppy has been here a week now and he still doesn't have a name! It's not that I haven't thought about it. I have! But, nothing seems to fit this little guy.
Here's a little information:
Puppy is a red & white male PWC.
He is very sweet and loving, but so far has been reserved with people he doesn't know.
He loves to explore.
His older Brother's name is Brady. (Brady is almost 10 months old.)
Puppy loves playing with Brady!
Puppy loves quiet time with me and is very calm when Brady's not engaging him in play.
Puppy has already had an accident -- got the backdoor shut on his foot. (He's fine, but it hurt!)
Puppy eats extraordinarily fast.
Here's Puppy's picture: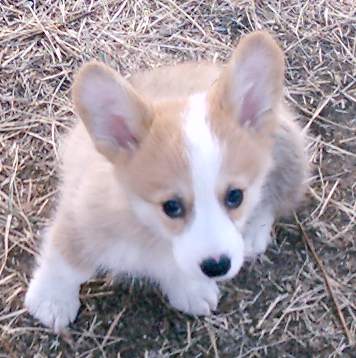 There are more pictures of Puppy & his brother.
OK, so on to the questionnaire! I do want to make sure that Puppy's name if very different than Brady's so they won't get confused. Also don't want to be close to the names of my cats (Bruno, Jasmine, Baby & Worf) or our dog friends (Max, Chelsea, and Jake).